What would you like to know?
seeo is a play on the latin word 'To Know' seeo is an AI-driven video analysis platform that provides you with a deeper level of insight into their operations.
Our first application of seeo is in workplace health and safety - we help employers know the current state of their workplace safety, so they can address issues and protect what really matters to their business.
seeo is an AI-driven video analysis SaaS offering that tracks workplace safety & hygiene compliance
seeo is a play on the Latin word "to Know" Organisations like yours, often have myriads of surveillance cameras recording events of interest 24/7. Up until now, it has been cost-prohibitive to proactively monitor for events that do not represent agreed or desired behaviours.
Forklift-1
Analyse
seeo analyses CCTV footage for events that indicate gaps & weaknesses in H&S culture.
Behaviours like proximity to forklifts, or the presence of both MHE & a person inside a shipping container at the same time are identified.
EditPhoto#4 -Rules
Know
Video clips of 'behaviours that don't reflect our agreed H&S culture' are presented in the seeo app for review. They provide timely, highly useful intelligence & performance feedback to all participants.
smartmockups_ku17aoew
Measure
All collected data is stored in a secure cloud environment.
The software analyses the data to create statistics that show the success & results of efforts made to change or shift your culture
Warehouses 5-1-1
Respond
Use seeo as a 24/7 auditor of onsite behaviour at your organisation.
With seeo technology, you can understand the current state of your workplace safety, so you can address issues and protect what really matters to your business.
seeo is like having a 24/7 auditor of onsite behaviour
When you can't be there, seeo is. When you can't possibly know what is going on, seeo does.
Speak to us today to see how seeo can help you protect what matters most - your people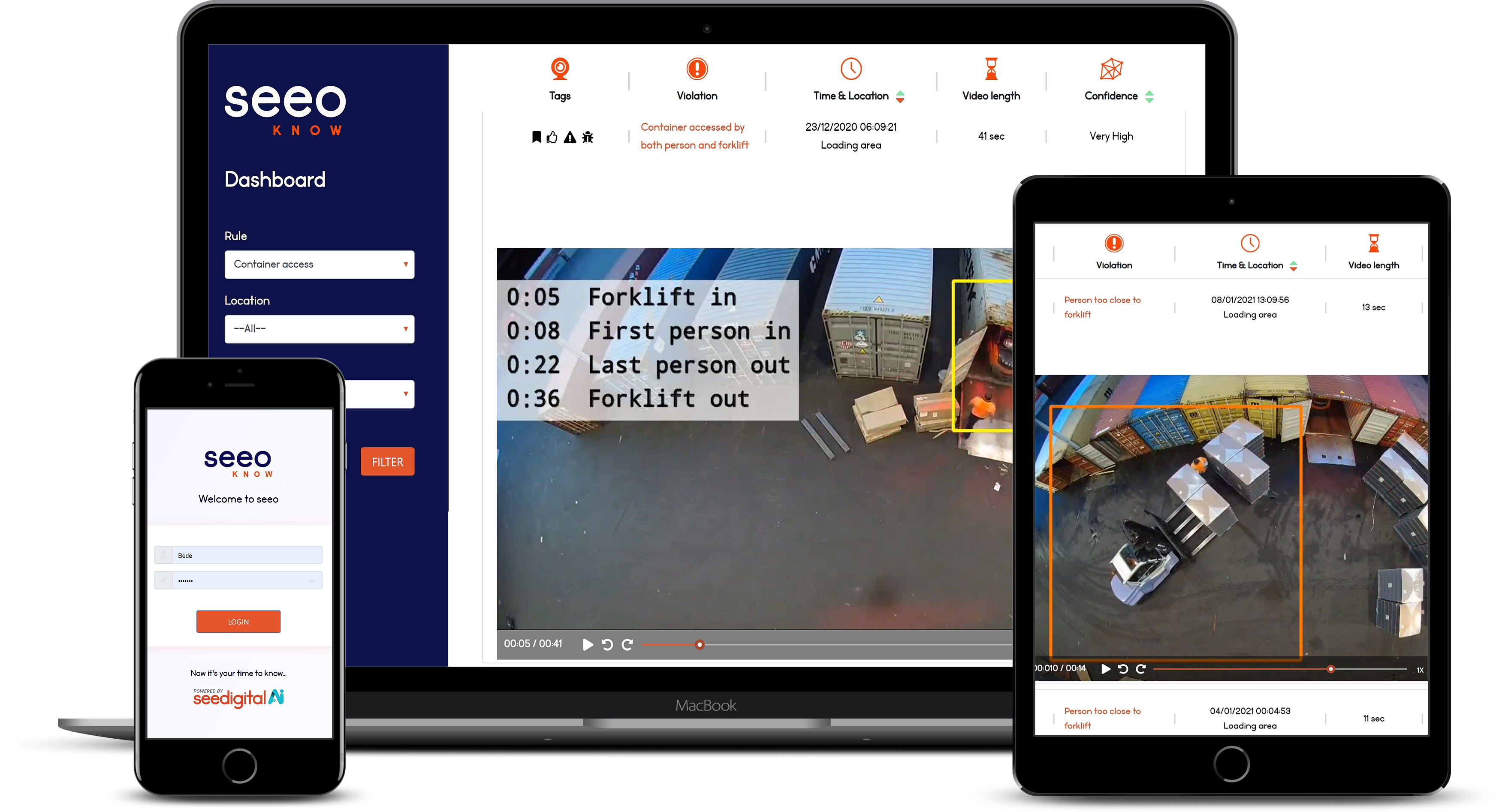 Frequently asked questions
What we usually get asked about seeo artificial intelligence
Can I use my existing security cameras?
Yes you can with the caveat being that they may not be in an optimal position to avoid issues such as occlusion. seeo is optimised for 360 degree fisheye cameras which are best placed overhead the 'action' An onsite inspection of what you have in place will be required to get a final answer on this issue.
What do I need installed on-site?
seeo requires CCTV camera(s) with a recorder which records events as they occur (usually based on motion). The recorder needs an internet connection to upload those images to the seeo analysis engine. We can specify & install all of the necessary equipment as required including a secureWAN connection directly into the seeo cloud environment.
How much does seeo cost?
seeo is a software-as-a service model, that includes processing your images and then presenting them for your viewing pleasure within the seeo website. You are charged a monthly fee for the service, based on a per camera basis. The cost depends on how much activity will be processed, how many cameras will be processed and the number of rules that will be applied on each camera.
Contact Us to find out more.
How does it actually work?
seeo is applied artificial intelligence. seeo recognises your forklifts, your people and the vagaries of your environment. It tracks the various objects in the scene (eg forklifts, trucks, freight & people) and works out where each one is in relation to each other.

A rule algorithm is then applied to that information, producing a 'violation' against the rule. The video of this event is then placed in the seeo website for your viewing as well as being added to performance statistics for your site.
Do you have people viewing the images?
seeo utilises the power of AI to analyse activity & behaviour of people onsite fully automatically. Post-training, there is no human intervention or curation of event data.
You may also want to consider: